The Care Journey |

Community Care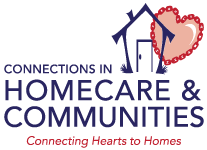 FINDING THE RIGHT TYPE OF COMMUNITY OR IN-HOME CARE.
We guide families to help determine the most successful long-term care solution for older adults: homecare or a senior living community
What is Connections In Communities?
We are a FREE service to families by exploring and offering guidance for senior care options…
We are unique because we can provide Homecare to help older adults that choose to age in place through Connections In Homecare, and also provide our senior living placement search through Connections In Communities  such as Assisted Living Homes and Communities, Memory Care Communities or even Independent Living that we have thoroughly vetted.
We are locally owned and operated here in the valley of the sun and serve all of Maricopa County. We help guide families with making difficult decisions for their loved ones based on their situations & finances.
Finding the best long term care solution for your mom or dad or an older adult loved one, whether it be placement into an Assisted Living environment or receiving Homecare service can be overwhelming. Our goal is to assist people in aging gracefully, and with our guidance and expertise can help families make one of life's hardest decisions that much easier.
A Place For Mom And Dad
Community care or home care?
Many factors will affect this decision. We're here to help you figure out the best path for you and your loved ones.
Together we create and follow a Care Plan to ensure safe and successful daily living activities. A Care Plan can be any combination of the types of care we provide:
A New Model for Better Care
Caring professionals providing the highest level of personalized care with more layers of support and unique technology that improves reliability and communication.
Together, we work closely to ensure that our clients have the appropriate level of care—and are 100% satisfied with our service.
As a local agency, we've built our reputation by providing the highest level of in-home care to older adults in our community. That hasn't changed. And neither will our relationships with the people we care about–and care for.
Our app brings much needed transparency to home care clients-authorized loved ones can view the care schedule, the caregiver's profile, and read care notes provided by caregivers after every shift.
Personal, Supervisory, & Memory Care
Assistance with showering/bed baths
Ambulation assistance such as transferring, stand-by assistance, and repositioning
Dressing, undressing
Incontinent care
Personal hygiene
Medication reminders
Memory care for Dementia, Alzheimer's disease, Parkinson's disease
End of life care and hospice support
Personal, Supervisory, & Memory Care
Light housekeeping such as laundry, changing bed linens, dishes, and dusting.
Transportation to anywhere such as doctor visits and errands
Planning and preparing meals
Fall prevention, stand by assistance
Conversation, activities
Trusted Care From Experienced Care Professionals
Our experienced and reliable care professionals can accommodate care starting from four hours a day up to twelve hours a day including overnight care.
Services are available throughout Maricopa County 24 hours a day, seven days a week including holidays.
Connections In Home Care is insured, bonded, and carries worker's compensation coverage for our team of care professionals.
We hire the most skilled and joyful caregivers available!
Each client and their family are treated courteously and respectfully; with their rights, confidentiality, and privacy protected.
Our care home placement experience allows us to guide families to the best possible options for their family members throughout the Phoenix Metropolitan area.